Search Engine Optimization (SEO) is a common marketing concept used by digital marketers to improve the quality and quantity of the traffic on a website. In order to create an effective SEO strategy, the experts use different methods and techniques based on the expectations set by the website owners.
But, it can be hard, even for a professional, on where to get started with SEO. This is because almost every expert has an opinion on what works and what doesn't.
Two of the most common SEO techniques followed in the market are White hat SEO and Black hat SEO. These techniques have their own perks for the website, but knowing the actual difference between these techniques is important to understand which one has the potential to offer long-term SEO goals.
In this blog, we will take a look at some of the aspects that will help you in making a sound choice and understand the difference too.
What is white hat SEO?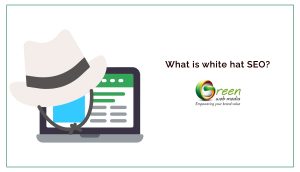 White hat SEO is a practice of doing Search Engine Optimization exactly the way Google asks you to. The expert who uses the White hat SEO technique follows Google's guidelines and creates a game plan that lasts longer and can withstand any future updates rolled out by Google.
In short, White hat SEO is the correct and ethical way of optimizing a website. Let's take a look at some of the aspects of white hat SEO to understand it properly.
1- Follows the guidelines:
As mentioned above, the White hat SEO technique follows Google's guidelines.
Google has laid out some rules that define how optimization should actually work. While the information goes a bit into detail about what "ethical" SEO practice should be, here is a sum-up of the concept for you – don't be manipulative. So, basically, if you aren't trying to manipulate rankings or are deceiving Google's algorithm, you are practising the ethical way.
2- It focuses on human audiences:
Whatever changes are implemented as per the white hat SEO method proves beneficial for the website's visitor.
How is that possible, you may ask?
Well, we all know that Google prioritizes providing the users with the best possible result from their search query. Almost all ethical SEO practices focus on offering an exceptional experience to the users. So, it makes sense; whatever changes you implement, it ends up favouring your audiences, therefore, impressing Google.
3- It takes a long term approach:
All of your ethical SEO strategies follow Google's guidelines and creates a positive user experience. This process is both time-and work-intensive than the black hat methods.
Similarly, even the results from ethical practices take longer to show.
However, on the flip side, white hat SEO can have a lasting impact. That is because these strategies not only improve the website's experience but also helps in achieving a steady ranking for the targeted keywords.
How is White Hat SEO different from Black Hat SEO?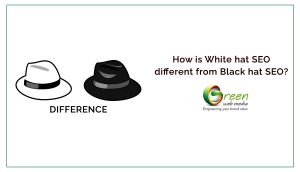 Google has clearly mentioned what you must not do when implementing SEO strategies. Unlike white hat SEO, Black hat SEO is all about breaking the rules mentioned in the guidelines.
We aren't saying that black hat SEO may not work at all. Well, it may work even better than the white hat SEO game plan. However, the results will be short-lived.
Google regularly updates its algorithm. So, if you do something against the guidelines, you will most likely get into trouble down the line.
Here are some of the black hat techniques. 
1- Hidden text:
This technique definitely worked in the distant past where the text of certain words was matched as per the background of the website. People weren't able to see these clunky texts, but Google could and would end up ranking the sites. Now, this technique is certainly impossible to do.
2- Cloaking: 
Cloaking is a method where HTML texts shown to the visitor and Google were different. This thing worked, too, because the sites were required to show search engines what the website was about.
3- Stealing content: 
This unethical practice can show up as duplicate content. Just because you see a great article on a website, don't think about copy-pasting it to yours. This is nothing but plagiarism. Google will surely catch you quickly. So, it is wise to get unique and relevant content on your website.
4- Link farms:
This is process where various websites are linked to each other. Links work as a signal to Google and lets it know that your content is interesting for others. That is why this technique used to work. But now, one can get caught if the backlinks aren't natural-looking. Likewise, irrelevant sites linked to your website makes it pretty obvious that you are cheating.
5- Purchasing links: 
Don't fall for those ads that say, "Buy C amount of links for B amount of money." This is because these links aren't good quality links, meaning you are just wasting your money.
The in-between solution: The Grey Hat SEO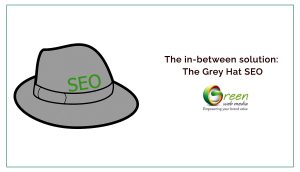 Now there is an in-between solution, too, that is Grey Hat SEO. Well, Grey hat SEO isn't necessarily like the white hat SEO and the black hat SEO either. It falls somewhere in between.
For instance, re-writing an entire article without offering any original context to it, creating doorway pages, building microsites or submitting to link directories.
So, in most cases, Grey hat SEO practices can be considered manipulative. But, Google hasn't named these practices unethical.
This means, even though grey hat SEO may have a little less risk, it still can have potential consequences.
What are consequences of using a Black hat or Grey hat techniques?
Opting for strategies that do not follow or attempts to manipulate Google's algorithm has two expected consequences, such as:
1- Demoted rank due to algorithm update: 
Google does regular algorithm update so that it can improve the results it provides to the users. And most of these updates focus on closing any possible loopholes that unethical SEO techniques like black and grey hat SEO exploits.
One of the most notable updates made was the "Penguin" in 2012. This update was aimed towards targeting websites that buy links or use spammy links. As soon as this update was rolled out, thousands of websites using deceptive link practices saw an incredible drop in their ranking, therefore, losing all of the results gained through those practices.
After this update, Google has made a habit of releasing countless updates every year to target the manipulative SEO practices followed by the websites.
So, even if these updates do not necessarily ban a specific website, they tend to have a significant impact on the ranking of the website.
2- Manual Penalties: 
Another risk that websites using the black hat and grey hat technique face is Manual Action.
These penalties are provided by the human reviewers in Google's team who flag the website for violating the Google guidelines.
Manual penalties can result in preventing the websites from appearing in the search results completely.
So, if you are using black hat SEO tactics, then you will end up experiencing the exact opposite results from what you were expecting from it in the first place.
Where does link building lie on the spectrum of SEO techniques?
Another debate that SEO experts usually have is about link building. There are many site owners who consider link building as a black hat SEO.
Well, if you consider participating in link farms or purchase links, then, of course, that is black hat SEO.
The purpose of link building is solely done with the goal of enhancing the site's ranking. They do not necessarily impact the user experience as their prime purpose is to boost the site's credibility for the search engine.
So, the main question is, should you attempt to earn links, or should you avoid earning links completely?
Well, the answer is, you should earn links but also be careful in choosing the right tactic for organic link building. This is because, even if the algorithm doesn't catch your tricky techniques now, it surely will in the future.
Google clearly recommends the website owners in their guidelines to evade engaging in link schemes or affiliate programs that offer no value. Similarly, buying links should be totally off charts.
So, as long as you aren't manipulating Google's algorithm with unnatural, spammy links, every step added in earning the link does not falls under black hat practices.
The bottom line
As one delves deeper into the world of digital marketing, it is common to come across different ways to optimize the website.
But, keep in mind, when the choice is between the White hat and Black hat, there is no such thing as debate. Always, go for the White hat technique as it is the better approach that follows the search engine guidelines and offers a perpetual, positive impact on your search visibility.
With that being said, ensure to work only with experts who have incredible knowledge in the field. After all, optimizing the website isn't cheap and working with the wrong person will only damage your website.