Are you curious to know about what is SEO and how it works so that you can implement SEO and reap its benefits? Well, the good news is that we are providing you with an SEO guide that will guide you towards the successful implementation of the tactics of SEO.
Many people are still unaware about-what is SEO, and how does it work? Most start-ups and new companies are trying to develop their websites in the best manner possible. They often tend to build their website in a way in which the site will get the maximum attention of search engines. Thus, for few people, SEO is quite a difficult topic to learn about. Therefore, our guide today shall help you in understanding what SEO is and how it works, along with how Google search engine works. With the help of our guide today, you will be able to efficiently utilize the benefits of SEO and understand the best way to optimize your website for search engines.
Understanding what SEO is and how it works may be difficult at times, but it is not impossible to understand what is SEO. Even though you may not be very well versed in the tactics of SEO, you may still be able to improve your website's traffic and contribute to search engine optimization. You just need to have a little bit of knowledge about SEO to have a significant amount of leads and conversions within a very less period. So, let's understand SEO and learn about the best way to optimize your website for search engines.
What is SEO and how it works?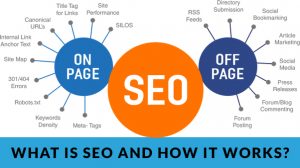 The full form of SEO is Search Engine Optimization, which is the organic process to optimize the traffic that your website gets. Paid advertisements do not come under SEO. It is primarily because SEO strategies are nothing more than tactics that allow the website owner to have more conversions without needing to pay anything on advertisements.
SEO strategies involve making significant changes to your business website. These changes consider many factors of your business while redesigning the entire website. The site is further developed to make it more attractive so that search engine web crawlers can quickly locate your business website whenever a surfer searches for keywords and phrases that are related to your business. So now, we have to understand what web crawlers are and how Google search engine works. Web crawlers are search engine bots that accumulate the data from the entire internet and process them accordingly. They are mostly attracted to websites that are updating fresh content and relevant information. These websites make it to the front page of search engines, which we usually call the SERP page. Search engine web crawlers give ranks to different sites depending upon factors like its content, traffic, and relevancy, the number of conversions you get on your website. Thus, most business owners aspire that their business websites come on the front page of every search engine. It helps in gaining more customers or clients.
Understanding how Google search engine works can be a bit tricky at times, but the necessary process is not that tricky to understand. You need first to know how Google search engine works and get to the core to see how you can improve your visibility. Search engines always want to provide the best and most trusted information to their users, and this should be there while making a website. You need to have relevant and authentic information about your products or services that you are selling on your website. So when you have high-quality information on your business website, then automatically, the web crawlers identify your sites like a search option that has relevant, authentic, and fresh information or content. Your website needs to have information about things that people might search for on the internet.
Web crawlers can easily detect faulty websites with irrelevant information, and it automatically suffers a low ranking. Your business website also needs to be easily detectable, and it needs to be a website with excellent navigation features. The users must also be able to read the content, understand it, and utilize it. Once your site becomes user-friendly, it starts ranking in the top section of the SERPS pages, and you learn the best way to optimize your website for search engines.
What are the factors that affect SEO?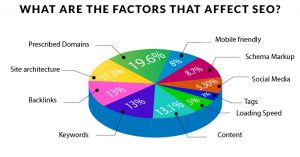 By now, you have learned about what is SEO and how it works and also how Google search engine works. Now you need to know about the factors that affect SEO and what is the best way to optimize your website for search engines. The biggest search engine at present is Google, and it is widely known as the search engine giant because it has the most significant percentage of internet users in the world. Everyone prefers Google over any other search engine. However, it is impossible to understand how Google ranks on various websites, and the exact algorithm can never be cracked. However, SEO experts have gained enough knowledge to decode some ways in which Google ranks sites. They have discovered some factors that highly influence the SERPS rankings in Google, and these factors have been categorized as on-page factors and off-page factors. So, now we will discuss the different factors that affect SEO both on-page as well as off-page.
What are the Factors that Impact both On-Page and Off-Page SEO?
1. Content Marketing
Content Marketing is one of the most important aspects of SEO, both on-page as well as off-page. Content marketing is an integral part of SEO because it helps in attracting the attention of the search engine web crawlers. Whenever a visitor enters your business website, it is because of the content or the information that your site has. Thus, prioritizing your content should be your primary concern if you want good SERPS ranks. Judging the content, categorizing them, and providing correct information to the right user is how Google search engine works. You have to give more relevant content that will define the kind of business you do, the type of products you sell, or the kind of services you provide. That helps your websites make connections with potential buyers, customers, and clients. The more quality based content you post on your site, the more chances your site has to rank on the first few options on Google.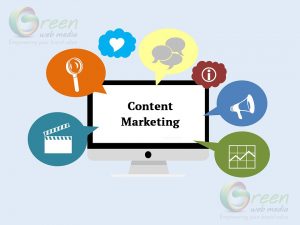 Visitors need to engage with your content, and it should be such that it affects your visitors so much so that they feel like buying what you are trying to sell. Your content has to maintain a certain level of quality to convert your visitors into potential clients, customers and buyers. Search engines also detect how much time each visitor is investing in your website, as this influences the SERPS ranking. Thus, whenever a visitor visits your business website, the site needs to be attractive and one that lets the visitor explore and know more about your business. You also need to make a variety of content that your target audience can easily relate to. There are many types of content that you can utilize to engage your target audience for a more extended period in your business website.
For example, you can add a blog and keep maintaining it with quality-based articles. These articles must have relevant information that the readers can easily understand, and the data should be such that the readers can learn something from it. You can also keep posting content on social media, which will become a part of social media campaigning. Social media has the highest strength; thus, posting content, there will bring a lot of attention to your original website. Similarly, you can write content on e-books and white papers, which will be beneficial for your website. Video content is gaining more popularity these days because audiovisuals are more exciting and less tiresome. You can post Tutorials and coach people on various topics.
Audio recording or Podcasts are slowly gaining momentum along with infographic shows on video channels. That is how Google search engine works, and you have to gain more followers through your content.
When creating content, you have to provide relevant phrases and keywords that are associated with your business, products, or services. The internet user just needs to search for these keywords and phrases related to your business, and they will get your website as an option. Then the visitor can easily be navigated by your website to the original website whereby they can access many of your company's information. They can even purchase products or services, or they may try to communicate with you regarding a few queries or suggestions directly. It is technically the best way to optimize your website for search engines.
2. On-Page SEO
On-Page SEO is maintaining and increasing the traffic directly on your website. You have control over On-Page SEO because, with the time, you can work things out. You have the best way to optimize your website for search engines, and that is through a few On-Page SEO factors such as title tag, meta description, subheading, internal links, and image name and alt tags.
The title tag mainly tells your visitors and search engines what your website is all about. But you have to keep it in mind that the title tag cannot be less than 70 characters or more, and this should include the keyword that the specific content of the website is associated with. You must have your business name in the title tag. The meta description briefly describes your website to your potential visitors. It should include relevant keywords and what your content is all about. Subheadings are essential because it makes your website's content more comfortable to read for the visitor.
Since readability is also an SEO defining factor, if your content has relevant subheadings, there are chances of improvement in SEO. You can use H1, H2, H3 tags in Dashboard to allow search engines to detect your sub-heads. Internal links help in bringing more authenticity to your content. Thus your SERPS ranking improves significantly. Internal links are also a method of marketing that helps customers understand the product or services and simultaneously buy them as well. If your content has images, then you need to index your images so that whenever someone asks for a picture, your blog post also pops up as one of the search options. This is the way how Google search engine works, and to have the most benefits, you need to employ these methods.
3. Off-Page SEO
You do not own direct control over these factors, but there are ways you can improve your ranking anyway. Here are the off-page SEO factors, which is one of the best ways to optimize your website for search engines.
Building Backlinks will be helpful because Google search engines will start to trust your website as an authenticate one with relevant information and fresh content. If search engines find your site a legitimate one, it may keep you on a good rank, but you have to maintain this position. You have to be careful about spamming a well. Many spam websites can harm your SERPS ranking because spam is nothing but misdirection, and such glitches can offend the visitor. The search engines penalize the site in such cases with bad rankings. You can take the help of influencers who have a massive fan following, and with their links, you can have a lot of quality traffic. You also have to be aware of how many likes and shares your website is getting. Try your level best to increase it, and you can do it by creating quality content.
Parting note
These are the few tricks and tactics of SEO. We hope you have already understood what is SEO and how it works. We expect the guide helps you in understanding how Google search engine works and what is the best way to optimize your website for search engines.