When it comes to judging your website for better or worse, search engines do that based on the company your website keeps. That is the main reason why establishing backlinks with popular and authorized websites plays an essential and prominent role in whether your SEO rank sinks or swims. There is no doubt that the quality and quantity of backlinks heavily influence your website position on SERPs. Even as per Google's confirmation, backlinks are one of their three most important search engine ranking factors.
However, before diving deep into types of links in SEO, let us first understand what backlink in SEO is.
What is a backlink?
Backlinks are usually known as inbound links, incoming links, or one-way links. Backlinks are a type of links created by another website to your website. The more backlinks a website receives, the more authoritative, relevant, and useful it is.
As per the study done by Ahrefs, 90.63% webpages get zero traffic from Google. The reason behind it, they do not have any backlinks. Therefore, if you want to be in another 9.37%, you need to have quality backlinks for your website.
Generally, most of the backlinks strengthen a site's reputation and rankings, but some types of backlinks can hamper your SEO efforts too. Therefore, while performing SEO for your website, you should not take the bad with the good. You should get rid of that bad backlinks as soon as possible. However, for that, you must know which backlinks are violating Google webmaster's guidelines.
Three Factors that Impact the Link's Value
Usually, the main three factors affect the backlink's value.
1)The Authority of the Linking Site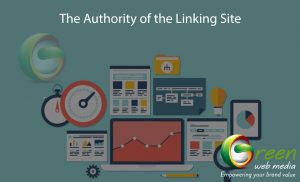 If you want to boost your SEO rank, then try to acquire a backlink from quality websites. Links from such websites are recognized as top authoritative resources. These resources will send more positive signals to search engines than links coming from low-quality and lesser-known websites. If you want to determine the authority of a website, you can do it that by determining the site's Alexa rank. Websites with lower Alexa rank are more authoritative than sites with a high Alexa rank.
2)Do-Follow Versus No Follow Status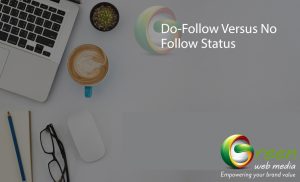 Whenever you add a link to your website, set them as Do-Follow Link. You can use the HTML code to set the link as Do Follow or No Follow.
a. Do-Follow – This type of link tells the search engine to notice them and give SEO value to them.
b. No-Follow – This type of link tells search engines to ignore the links and give them less SEO value.
In short, do-follow links send better signals to search engines. They are more valuable than no-follow links when you want to boost your site's SEO rank.
3)On-site Backlink Location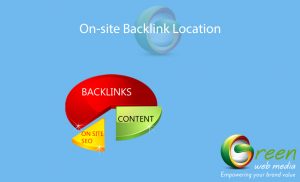 Backlink's value is usually impacted by the website section in which it appears. When you place a link within the main body content of the site, you will receive more value from search engines. However, the chances are that, if you place links in the search engine's header, footer, or sidebar, links will not get the same value. It is important to keep in mind, as you want to build high-quality backlinks.
Now you know what backlink in SEO is. So, let us understand its advantages.
Benefits of Building a Backlink
1)It builds your brand authority.
2)It provides your website with increased credibility.
3)Backlinks help in improving the site's SEO optimization by sending a positive signal to search engines.
4)It helps to increase traffic to your website from referral sites.
5)Backlinks help in promoting your business.
Types of Link in SEO
Few backlinks are most advantageous to SEO. Let us check out them one by one.
1)Editorial backlinks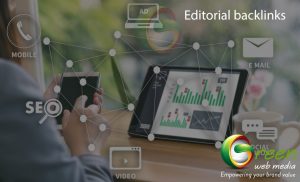 Editorial backlinks are one of the most beneficial types of links in SEO. It generally comes from editorial mentions. In an editorial mention, another website refers and links to your website in a piece of quality content. If you want an editorial backlink for your website, create evergreen content. It will demonstrate your status as an expert in your field.
Therefore, your website will become a go-to resource for interviews and industry insight. You should create engaging and sharable content that has a leg to go viral. Make use of popular keywords and topics to develop your content.
Tips to get editorial backlinks-
1. Create a relevant, engaging, and shareable content.
2. Develop a rock-solid content marketing strategy.
3. Publish a kind of valuable content that shows your website and brand as a thought leader in your field. Because of your evergreen content, other sites will want to cite, interview, and source your content.
2)Guest Blogging Backlinks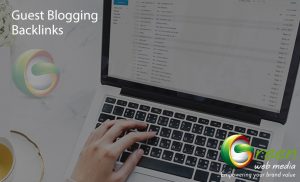 Guest blogging is another best way to acquire high-quality backlinks for your website. When you provide authorized and well-established websites a guest post, it is often possible to include an editorial backlink to your site. This type of backlinks is a reliable way to build credibility and authority via other influential publications. According to the study, guest blogging is a powerful tool for the promotion of your website.
Tips to get guest blogging backlinks-
1. First, build a list of valuable guest blogging sites.
2. Then, master the skill of guest blogging outreach.
3)Business Profile backlinks
Creating a digital profile for your business is an excellent way to earn top-quality backlinks. By creating an online business profile, you can incorporate a link back to your website. You can create a business profile on various business listing sites, social media, industry directories, and review sites. All these usually come with an opportunity to post a backlink. It will show the search engine that a website is well established and of high quality.
Tips to get business profile backlinks-
1. Create an online profile for your business on Yellow Pages, Yelp, Foursquare, etc. in your industry.
2. You can even take the help of Yext or Synup that creates and manages profiles for you.
4)Backlinks From Webinars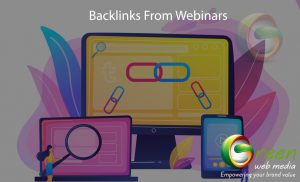 When you create a valuable resource on your website, it will often encourage other sites to link back to it. For example, if you create and record webinars, then chances are that other sites will embed webinars in their own pages with a link, and they will even mention your brand name too. As per the research, 61% of marketers use the webinar as a tactic for their content marketing strategy to earn a high-quality backlink.
Tips to get webinar backlinks-
1. You can repurpose your webinars by uploading them on your website. Therefore, people can visit and link to them.
2. You can use the same tactics as blog promotion to achieve suck kind of backlinks. Look for guest blogging sites that are interested in using your webinar as a resource on their site.
5)Free-Tool Backlinks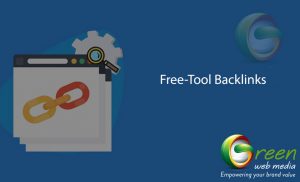 To get valuable backlinks, you can offer free tools on your website. It is a great way to earn backlinks as you are providing something valuable on your site. This free tool could be a basic tool, such as an auto loan calculator or a scaled-down version of a paid tool. If free tools offered by you are valuable enough, other people will link to them in their content.
Another strategy you can use is on a free version of a paid tools; you can add some call-to-action such as sign up for your product or service that drives acquisition in addition to awareness.
Tips to get free-tool backlinks-
1. You can create a free tool or a free version of your paid tool.
2. Then, search for sites that have a similar audience as yours who would be interested in using your tool.
3. You can make use of the guest-blogging outreach technique to connect with the sites and check out if they are interested in featuring your free tool or not.
Other SEO-boosting backlinks are as follows.
1)Acknowledgment Backlinks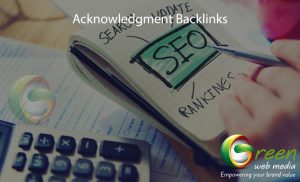 Acknowledgment backlinks do not provide as much value as those listed above, but it can help you somewhat in boosting your SEO. An acknowledgment link is a type of backlink that a website mentions and links to its website. It is when your company makes a donation, or your company's representative is going to speak at or sponsoring an event. This kind of link typically does not have much content related to the brand or its products, services, and offerings.
How can you get acknowledgment backlinks?
1. Try to find where your competitors are getting traffic from for their website.
2. Find out those sites where they acquired acknowledgment backlinks. You can even look for places in those sites' content where you can practice the same.
2)Guest Post Bio Backlinks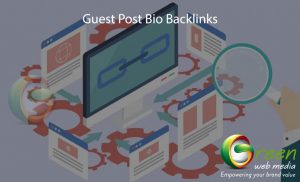 Some guest blogging sites do not allow you or will not include a backlink to the author's site within the main body of the content. What you should do in such situation? Check whether these sites are allowing you to include a link in the author bio or not. Of course, bio links do not offer that much value as a main body content link, but it can still add value to a website's backlink portfolio.
How can you get a guest post bio backlink?
1. To acquire high-quality bio backlinks, you can use the same guest blogging strategies as discussed-above.
2. Also, perform the backlink analysis on your competitors' sites to get knowledge about where they have acquired guest post links.
3)Badge Backlinks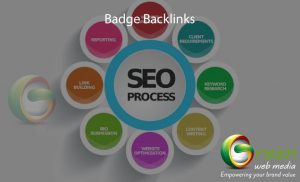 Badge technique is a smart technique to earn backlinks. In this technique, you can provide value to other sites through branded badges. You can give these badges to other sites as a status symbol. Whenever those sites proudly post the badges on their sites, you can get the backlink.
How can you get badge backlinks?
1. Firstly, search for a group of websites that you can qualify together and create a badge to recognize them.
2. You can make use of some tools such as the audience overlap tool of Alexa's to find the group of websites that share themes and audiences.
4)Backlinks Derived From Press Releases
When your brand has an interesting announcement to make, you can put it out through press release. It can serve as a foundation for your PR and marketing tactics. Through this press release, you can get backlinks as it can alert media outlets about your news. This strategy can get you backlink on the actual press release that is written by you and on the stories that media outlets write about it.
How can you get a press release backlink?
1. To get press release backlink, write a press release when your brand has something newsworthy to share.
2. Then, you can utilize services such as PRWeb or Newswire to distribute them to the media outlet.
5)Comment Backlinks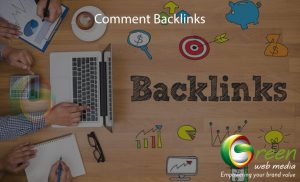 You must be aware that when you comment on a blog post, you are usually allowed to incorporate a link back to your website. If you post genuine comments on top-quality blog posts, it can drive traffic to your site and increase your brand visibility.
How can you get a comment backlink?
Commenting on the blog is an excellent strategy to earn backlinks, but do not overdo it. Only comment on high quality, relevant blogs, or forums related to your industry.
Types of Backlink to Avoid
Some harmful kinds of backlinks that you should avoid including,
1. Paid Links
2. Non-Newsworthy Press Release Backlinks
3. Low-quality or Irrelevant Directory Links
4. Low-quality Forum Backlinks
Build a Better Backlink Strategy
Concisely, backlinks are an incredibly important part of your website's SEO strategy. However, remember, to boost your SEO, not only the quantity of links matters but also the quality of the links is a crucial factor.
By building a sound portfolio of backlinks, you can improve your website's domain and page authorities. It will also help your website to rank higher for your targeted keywords. Without using backlinks, you will have a difficult time getting your site rank well in SERPs. So, be persistent in your backlink building strategies.
On the basis of your available business resources and the strategies discussed-above in the article, you should keep building backlinks. You should avoid links from spammy resources.
So, what kind of backlinks do you think are the most effective for your business? What type of link building strategies do you employ? Share your thoughts with us in a comment box below.