Everyone wants to run a successful business, but not every business is bound to prosper. In this free market economy, competition is inevitable. And being a business owner isn't an easy task.
Even though there are many factors that play a key role in making and cultivating a successful business but, when it comes to the race, every business wants to reach the top spot. In fact, most business owners believe that the only way to outperform the competitors to reach the top spot is by offering superior products.
Well, to some extent, this idea makes sense. But superior products and services aren't enough. You need to go above and beyond by monitoring your competitors closely. By using competitive analysis tools, you can gain insight into their digital marketing strategies.
Why does analyzing a competitor's website matter?
Globalization has resulted in rapidly increasing competition in almost every industry. And it is turning out to be like a sword that cuts both the ways for the entrepreneurs.
Even though the business owners have access to a huge base of prospective customers now more than before, but still the competition isn't limited to businesses in a similar area. The owners are exposed to increased competition from producers around the world.
And this wide exposure has not only resulted in businesses struggling with remaining profitable but also in identifying which firms they are competing against.
This is the reason why competitor website analysis tools prove as a helpful investment. These tools aid in scraping the web for competitor information. And once you get the detail of the online landscape, you can employ a lot of tactics.
Top ten competitive analysis tools for your business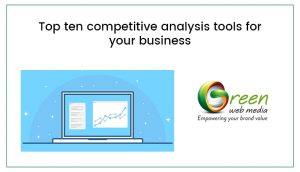 1- Sprout Social: Sprout social is ranked as the number one channel that helps in connecting with customers. It enables you to comprehend competitor's performance on social media from various angles and data points.
You can also employ Sprout's analytics tool to evaluate and optimize the social strategy using prolific data points so that you can track across Twitter, Facebook and Instagram.
With Sprout Social, you are always a click away from gaining informative insights into your competitors. It makes it easy to identify opportunities so you can differentiate your brand from competitors.
2- Social Blade: If you want to keep a tab on bigger brands, then Social Blade should be your go-to. It evaluates the followers count on the likes of YouTube, Instagram, as well as Twitter. Even though Social Blade is typically employed to evaluate the popularity of YouTubers and celebrities, but it can offer some impressive insights to the marketers as well.
For instance, Social Blade's Twitter competitor analysis offers grades based on the average number of likes and retweets. It also offers day-by-day follower updates along with a live follower count. It can also stack the brand's social presence adjacent to each other.
3- SEMrush: One of the most widely used SEO tools, SEMrush can be used to obtain competitor's backlinks as well as monitor the fluctuation in rankings.
Within seconds of entering the website URL into the search engine bar, you can receive metrics like:
Main competitors
Dofollow and Nofollow backlinks
The keywords for which your competitors are being ranked
The volume of traffic from both organic and paid search
SEMrush is basically an invaluable tool to gain strictly SEO-based insights of your competitors.
4- Ahrefs: Another best competitive analysis tool that you can rely on is Ahrefs. It allows you to inspect an URL's top organic keywords. Moreover, you can also obtain a rough estimate of how much traffic your competitors receive for the keywords they use.
You can easily gain insights into any website's highest-performing content as per the backlinks. These insights help you understand what type of messaging or product is working well for the brand.
5- MozBar: MozBar is a browser extension from Moz that offers surface-level visibility of how authoritative a site is, as per Google. Using Moz's own domain authority (DA) metric, MozBar assigns every site a DA score as per its odds of ranking on the search engines. The higher the DA score is, the better will be the ranking.
MozBar is a useful tool that helps in quickly determining a website's potential performance within a glance.
By just enabling the extension, you can view how competitive websites are in the Google search query itself.
6- MixRank: MixRank is a little different competitive analysis tool that helps in obtaining more information on the company itself, instead of its branding efforts based on the following particulars:
Contact information on business's key members
The technology used by the business
Intelligence on the employed marketing channels
Advertisers by the keywords, traffic sources and categories used by the business
Directories of millions of registered businesses globally
With MixRank, you can conduct both competitive analysis and identify new leads. In fact, MixRank claims that most customers employ their services to identify which customers their competitors are catering to and steal them for themselves.
7- WhatRunsWhere: WhatRunsWhere is the best competitive analysis tool to monitor paid search campaigns. It aids with gaining information on competitor's digital advertising tactics.
Currently, this tool offers access to 90k advertisers, 20k sites and 500 networks across five countries. This only means that WhatRunsWhere has a huge amount of data available that allows you to evaluate exactly where and how your competition is managing their ads.
It can also be used to produce real-time data on keywords, creatives and display networks used by your competitors. Besides, they also have data from several years ago, meaning you can also check how your competitor's advertising campaigns have evolved over the years.
However, it is best to use WhatRunsWhere in conjunction with other competitive analysis tools because it has certain limitations. For instance, it doesn't supply intel on organic search rankings or other free traffic sources.
8- Datanyze: Datanyze is yet another tool that focuses on lead generation opportunities. But it works well in providing information about your competitors, too.
With Datanyze, you can obtain insights on:
Industry category
Estimated funding and revenue
Date of establishment
Technology providers used by the competitor
Contact information of the company
Country from where the domain is
Gaining insights on such details allows you to comprehend revenue your competitors might be generating as well as investments made in marketing campaigns.
As a technology service provider, you can use Datanyze to see when customers have stopped using services from your competitor so you can do a follow up on them.
9- Quantcast: Quantcast is the best tool for gathering detailed insights on the site visitor's behavior and demographics. It places tags on blogs, widgets, websites and videos to measure necessary details like audience's age and gender make-up, frequency and length of engagement with type of content, areas of interest and type, as well as user retention.
To use Quantcast on your website, you will require embedding a tracking code so you can generate the data.
This tool can work best in conjunction with other competitive analysis tools to determine how changes on your site impact the branding and conversion goals. Besides, Quantcast allows for tracking the data in real-time, meaning you can check the impact of changes and iterate quickly.
10- Alexa: Even though Alexa is the oldest web analytics tool, it still proves as great a competitive analysis tool.
It offers robust regional and demographic information so you can where and to whom your competitors are catering their services to.
Alexa can also offer detailed information on the regions from where the visitors belong, the keywords attracting most traffic to the site, as well as the website's top referring sites.
With a more advanced plan, you can also gain insights into keywords employed by the competitors to drive paid search traffic.
Even though the toolbar is free, an advanced plan that provides SEO tools like competitor keyword matrix, competitor backlink checker and competitors traffic statistics can be purchased for $149 per month.
Things to look for in a competitive website analysis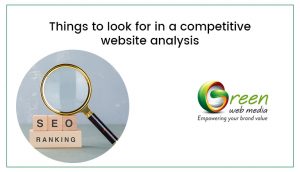 Understanding which tool to employ is only the first step of the competitive website analysis process. You will require knowing what information you should be inspecting and how to use it to procure the competitive edge.
Also, the data points and information you need to know about your competitors will be totally based on the type of marketing strategies that align with your industry as well as the number of efforts you require putting in to strengthen them, for instance:
If your business depends on organic traffic and you wish to enhance your search engine rankings, then opting for tools like SEMrush or Ahrefs can be the best place to start.
With paid traffic being your basic part of the strategy, considering paid accounts on WhatRunsWhere can prove sound. It can help you discover what other brands are doing with their advertising, the type of ads they are creating, where are these ads run and the level of user engagement on them.
If you want to decide which customer to target, then Quantcast can be the perfect tool. It helps in monitoring the demographics that are engaging with your competitor's website. You may even discover large markets you are missing out on.
Competitive tools can also be used to identify the customer base that your competitors might be targeting. Such insights can inspire future expansions.
Quick tips for conducting a competitive analysis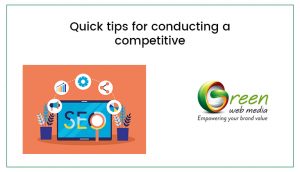 1- Analyze your actual competitor: There is no point in competing with firms that are way up on the competition scale. For instance, a local shop shouldn't compete with Starbucks or Dunkin' Donuts.
Instead, check what these big players are doing.
And when assessing the competition, go for those who are similar in terms of target audience and size as yours.
2- Focus on the metrics: Start by taking a data-driven approach to analysis first. Start picking the metrics before focusing on the "whys" of their marketing.
3- Turn the analysis into action: Lastly, ensure that the data you uncover is used to plan and implement some sort of action. This is because the notion behind the competitive analysis process is to enhance your marketing strategy for the better.
Wrapping up
Competitive analysis is a crucial aspect of fine-tuning the marketing strategy. By employing relevant tools, you will not only run the analysis quickly but will also be able to spend more time focusing on the efforts.
Regardless of which tool you employ from the above-mentioned list, once you understand your competitor's online marketing strategy, ensure that you don't imitate those that have no potential results. Also, if you choose to imitate any, it is best to tailor it as per your set goals for the results you wish to see.