The main purpose of starting your business or startup is to increase your revenue, sales and also make a name for your brand. In this digital age, without properly maintaining your website, the chances of you ever succeeding in the online world are next to impossible. But how do you improve your website and reach online?
"By hiring SEO professionals"
It is estimated that only around 49% of small businesses invest in SEO for generating organic leads. These brands score heavily in terms of increasing brand awareness and boosting target audience outreach.
This puts in perspective that the businesses that use SEO to build their brand image quickly develop strategies and ideas to stay ahead of their competition. This article will explain some advantages and facts as to why small businesses should make more use of SEO to increase their revenue.
6 Benefits of SEO for small business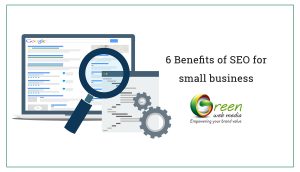 SEO is a strategy that small businesses should use if they want to impact the market and sell their services. The biggest advantage is that SEO is used for greater reachability and visibility, but it is not limited to only those two aspects. Here are six benefits as to why small businesses need to use SEO to take their brand to the next level.
1- SEO helps small business increase their brand awareness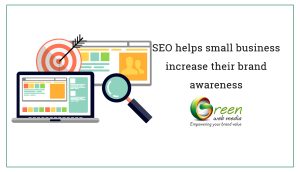 When the clients see your website in the top search results of the search engine, they are more likely to recognize your brand. The important reason why most small businesses do not prefer SEO is that they think they can use other means to increase their sales.
The other means include paid advertising, social media marketing tools, and showing others their website by word of mouth. Almost 75% of people don't even bother going past the first page of Google's search page. If you can't bring your website to the first page of the search engine, then there are very few chances of your business ever succeeding.
Clients tend to buy more from websites and brands who have their website ranked higher on Google's algorithm. SEO helps small businesses reach their goals quickly, overtaking their competitors who do not make proper use of SEO. You should always remember that even the best product needs proper marketing, and with proper marketing, you can reach great heights by making clients aware of your brand.
2- SEO makes the website reliable, credible, and trustworthy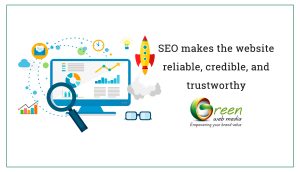 When you start producing quality content and fulfill the users' needs, they tend to trust your website and your services. For example, if you find the IMDB page informative about new movies and their information, you regularly check their page for more updates.
Similarly, you can make your website credible and genuine by having correct ads for the product searched by the client. More than 71% of users prefer ads of their liking and will buy from that particular website. Not only having ads as per the client's requirements but providing high-quality backlinks, machine learning signals, and SEO-optimized web pages result in clients sticking to your website longer.
The main result that people want to see after hiring SEO professionals is an increase in the number of visitors, sales, and establishing a strong and reliable foundation. A user-friendly interface should be the one that can help the client get what they are looking for. The only issue is that the credibility and trust of the clients cannot be earned overnight. It takes time, patience, and consistent checking of the results.
3- An SEO optimized website tend to be more user-friendly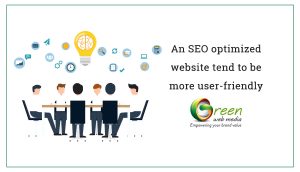 Most people only focus on the ranking and the content that they sometimes forget the most important aspect, i.e., the user-friendly interface. If the clients are not impressed by your interface, they will not stick around to look at your website. The websites ranked by Google as some of the best user-friendly websites are dependent on numerous factors.
Google not only considers the usage of keywords, or the layout and the images used in the website. It takes into around 200 numerous factors such as the domain history, site usability, page location in the sitemap, popups and other ads, content (unique, insightful, comprehensive, etc.), to name a few.
But how are these factors responsible for enhancing the user-friendly experience? These factors contribute to the type of content used in the website. If the client does not find what they are looking for on the website, you have a problem. The main purpose of the search engine is also to provide the clients with the answers to their queries using minimum clicks. If the brand needs to create an impactful image in front of the client, they need to enhance their interface and make it more user-friendly.
4- Local SEO increases engagement, conversion and helps bring organic traffic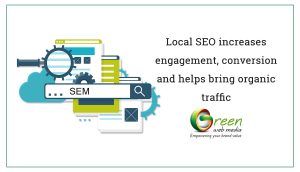 People, when they require any services, always check the availability near their location. This will help them avoid traveling far away in times of the pandemic. Therefore it is only logical for small businesses to have an effective way to attract more local clients.
For example, if a client searches for coffee shops near me and you have recently inaugurated a coffee shop, then you optimize your website in such a way that you'd show up in their top results. Local SEO will help you increase your availability and awareness online within your specific vicinity. This will help the brand gather more potential clients on a local level. 39% of SEO professionals invest in local search optimization, helping the brand grow.
SEO professionals help small businesses by enhancing their backlinks, their content, and their local citations. They do this by adding the name of the local place in the content like keywords, by understanding the knowledge graph, social media marketing, and analyzing My Business Listing. Having a good review on local search apps such as Yelp can help you improve your chances of being more visible to your local people.
5- SEO is ever-changing, and the professionals are always updated with the latest trends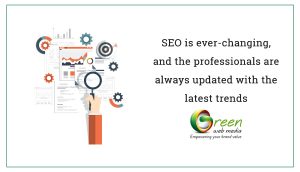 The scene of SEO is not constant and frequently keeps on changing and improvising. This happens because of the regular updates of the search engine and their changes in the algorithm. It doesn't mean that once you have come up in the first top five or six results of the search engine, then you'll stay there forever. You may end up at the bottom of the first page the next day, week, or month if the stats are not regularly monitored.
For this, the SEO team needs to continuously monitor the situation and develop new strategies and ideas to keep the website at the top. This is achieved by having all the right tools and software to get the job done. Since the small businesses may not have the resources to fund a complete team dedicated to SEO, 70% of the businesses still manage to have an in-house team. In comparison, 27% of businesses consult a freelancer, and 26% of businesses outsource their job.
No matter how you handle your SEO needs, the needs must be met and handled properly. With the frequent changes in the algorithm, once you fall behind on the SEO practice, it becomes very difficult to start afresh.
6- They are cheaper compared to other methods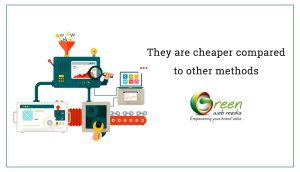 No doubt, having an in-house SEO team or outsourcing the work means paying the workers. But these methods cost far less compared to the traditional methods. The traditional methods involve business advertising on billboards, bus stops, advertisements in newspapers, etc. When it comes to SEO, you save a lot on advertising.
SEO professionals use certain tools and gather information on how to sell your products and services to the target audience. For this, they make use of certain free tools and get the result. Small businesses can save a lot on the tools used, and once they have succeeded in their field, they can afford pro services of the free tools.
The best thing is that the results generated by SEO last long, and once you've maintained a strategy, there is no need to come up with new strategies regularly. All you have to do is regularly update the strategy, and you're good to go.
Conclusion
The 49% of small businesses that use SEO services have a massive competitive edge in generating leads and augmenting their toplines. If you want a custom SEO campaign, then make sure to outsource your SEO work to professionals.