Giving your website a new look by redesigning the website is something you must-do if you've been running the same website for quite some time. This will allow you to be ahead of your competitors, stay on top of the current trends, and will also help you redesign your website and make it more user-friendly. Doing some redesigns will give you an edge over your competitors, and potential clients also like seeing a new website rather than some outdated website.
The main reason you do a website redesign is to increase the monthly visits, traffic, increase the sales, and conversion. But such is not invariably surely the case. Sometimes, a website can also see some traffic drops after a website design. This happens due to several issues, and it is a problem that can be solved immediately without having to stress over it. This article will mention in detail what are the main causes of traffic drops and how you can avoid these traffic drops after a website redesign.
What causes the traffic drops in the first place?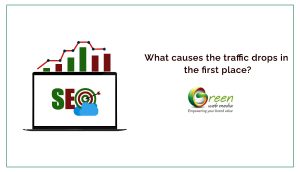 It is normal to see some traffic drops since the first couple of days after a major website redesign. But if the traffic drop lasts for some weeks and the rate of traffic drop is also high, you need to do some work to restore it. But what are the main reasons for a traffic drop? There are three main factors.
1- Not giving proper redirects
Most people skip this step after setting up their redesigned website. This step must not be skipped and is important to ensure that there are no more traffic drops. Redirects are essential because they inform the browsers and the search engine of the exact location of your new pages and articles. If proper redirects are not given, then the search engine and the browser will understand that the pages are deleted and will not be able to show it to the clients. Once you give proper redirects to all the pages, you can see an increase in traffic.
2- Site structure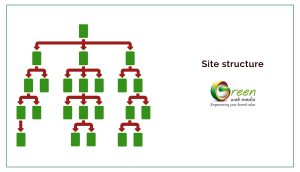 If you don't create a new sitemap after redesigning the website, then the search engine will not be able to get a list of all the pages. Google indexes need to have a new sitemap for understanding your website more clearly. After the redesign, it is important to submit your new sitemap to the Search Console to get your original traffic. Once you're done with the new sitemap, do visit your internal links. If the links are in the pages, then you will not have new issues with traffic. If not, then new problems may arise till you sort out the internal links.
3- Site copy
After the website redesign, if the content writer does not write the content with the originally targeted keywords, there are chances that Google will not rank it. Since earlier you had a ranking based on the targeted keywords and their placing if the new content does not have the keywords, Google's algorithm will not be able to use it as relevant, and your content will not get any traffic. But how do you get your content with the targeted keywords? You can hire an SEO company, optimize the content with the keywords, or go through your old content and see which keywords were used on which page and recreate the content.
How can you avoid such traffic drops after a website redesign?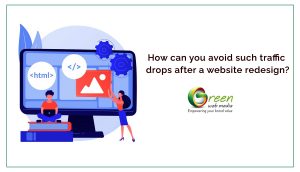 If the above article has intimidated you or if you're genuinely confused about what to do after a website redesign, then we can help you. Also, if you have an outdated website that has been the same for some years, you must do a website redesign. A small amount of traffic drop is normal, and there is nothing to be scared of, but you must consider some things, and several points must be taken care of to ensure that traffic drop does not last forever.
1- Bring in your SEO team for the redesign
When you're starting with the redesign process, ensure that you also have an SEO expert who previously worked with you before the redesign. This will help you deal with redding aspects from an SEO expert's perspective. They can help you do the redirects work and other works that will prevent the traffic drop in the first place. SEO experts can also advise the website designers about some ideas that will enhance the website and increase traffic. This will also help increase sales and conversion.
2- Have a backup of all the data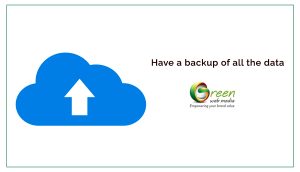 Before starting the redesigning work, it is essential that you have all the data backed up into someplace safe and secure. Many free online tools will help you make a note of the inventory and help you get the details into a spreadsheet. The data will help you ensure that you do not forget to add relevant data from the previous design and improvise on the website's architecture. The new URLs should be added with relevant subsections and apt headings for the search engine to reach the URL and provide the client with the correct article.
3- The redirects are most important
If the URLs have changed after the redesign, it is important that you give proper redirects, or else the search engine won't be able to locate your article. Also, when using redirects, ensure that you use 301 redirects. This tells that the 301 redirects are permanent and also lets the clients know that the page you're looking for has been permanently moved to another URL. If you use the 302 redirects, it will harm your ranking and is the most common error made by some website developers.
4- Have the analytics tracking code in place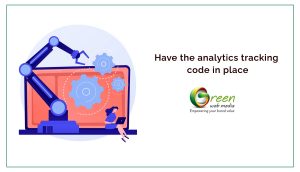 Make sure to have the analytics tracking code properly in place before you release your website live. It might feel like a point that will always be taken care of. But most people forget to put the tracking in place and lose sleep over the fact that they have lost their traffic. The developer needs to ensure that the tracking is executed on the header and footer. Once you have completed this, you can monitor your traffic like before and also be relaxed so that you have not lost your traffic.
5- Some final tactics to do after the redesign
After you've released your redesigned new website, it is time to put your SEO tools to the test. The expert needs to compare the metrics from your older website with the metrics from your new redesigned website. You can do this by fixing any broken links, solving any existing or new problems with the XML sitemap, and monitoring your 301, 302, and 404 redirects.
Many free online tools can be sued for the development, such as Deep Crawl and Google Search Console, to look for any new threats or potential issues. You can compare your old metrics with new ones with the help of Google Analytics. When you use Google Analytics, you must ensure that your bounce rates are going down while your number of sessions per user, pages per session, and average duration of a user spent on a session should be higher.
This will allow you to realize how well your redesign is working and how well the traffic likes your new website. Keep these tips mentioned above in mind and follow them to ensure that you get higher traffic and convert new users into potential clients.
How long will it take for the traffic drop from a website to resume to normal?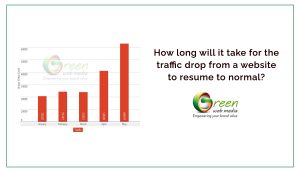 You must remember that if the traffic drop is due to any of the reasons mentioned above, you must first find a solution to the problem. If you've identified and solved the problem, then there is nothing for you to worry about, and you can easily get back your traffic drop within no time.
But it doesn't mean that the traffic will resume on your website overnight. It will take some time, and just like a newly SEO optimized website, your rankings will also be back to normal. Till that time you will see less traffic than usual, and it is nothing to be stressed out about. This happens because it takes Google some time to crawl and re-index all the new changes and the pages before beginning ranking your content.
Wrapping up
Traffic drops after a website redding is a very common issue and are nothing to lose your sleep after. You can get in touch with your SEO team, have a meeting with your website developers and SEO team and identify the problem. Though it is not advised to give the controls of the new website to a new SEO team as they may not be aware of the work done by the previous team. They will also require time to study the data and come up with strategies. So let your current SEO team manage the work and do not let them go immediately after a website redesign.