As a website owner, did you ever get impressed by content available on your competitor's site and were tempted to copy-paste the same onto yours?
Well, if you have been in this situation, then don't worry, you are not only the one. In fact, it is common to see website owners copy-pasting the entire information from reliable sites in hopes of making their website resourceful for the audience. But such an act does nothing but attracts search engine penalties due to plagiarism, therefore defeating the purpose of creating a website in the first place.
Similarly, there is a chance that another site can publish the content from your site to theirs without your permission, and trust us, unscrupulous digital marketers tend to do so. They will use your content to compete against you. In fact, the chances of them outranking your site is huge, too.
Thankfully there are reliable tools that can come in handy. We will discuss them soon in this blog. But before, let us understand –
What is duplicate content?
Duplicate content is nothing but large chunks of similar content published on two or more websites or web pages.
As per an article posted by Google Search Control Help Centre, duplication is when substantive blocks of content are displayed within or across a domain that either match each other completely or are appreciably similar to each other.
How does duplicate content harm your website?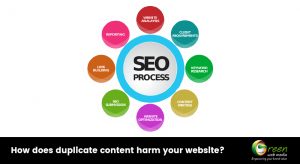 Duplicate content can do a lot more harm to a site than one can imagine while copy-pasting the same. In fact, it can hamper the site's performance in ways like:
Prevent your website/webpages from getting ranked in the search results. Duplicate content can completely vanish your website's ranking from SERPs. Since Google tends to take hints from the pages, it has indexed to show the most relevant pages to the user's search query, meaning your website can get caught here.
Duplicate content can dilute your link profile, especially if it is available in two or more places on your website. It is best to have one strong page with quality content and high-quality backlinks than two pages displaying the same information. Such a case can hamper your page's authority.
Duplicate content can directly confuse both the audience and search engine as they may find it difficult to determine the originator of the content. Google may have trouble comprehending who posted the content first.
How much repetitive content is too much for your website?
There is something as "too much," when it comes to content duplication. For instance, if you quote something from another site, you are just offering additional value along with the original information you already created.
But, replicating chunks of text verbatim that doesn't add any additional value to your users is what you need to prevent. In fact, it is best to reconsider whether you need such content at all.
Plus, it is wise to keep in mind that some duplicates tend to arise naturally. Here are some prime situations:
Adding specifications in the product description
Similar products appear in multiple categories on your online store
Similar content pages that appear in two places on your website
Openly using the content from another website (for example, press release, local event feeds)
How to create original content always?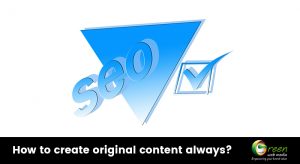 If you are creating a product description, don't just limit the detail to bulleted specifications. Try to include as much information as possible. For instance, let the consumer know how buying from you is better.
Use canonical URL if the products are appearing in multiple categories or if there is similar content on more than one page.
If you wish to use another website's content on your website to offer added value to your readers, then consider the rest of the content you are creating. If the chunk of duplicate content is adding value, there is nothing likely that you can do. Just know that your page won't rank just as well, if not at all. You can acknowledge the author as a courtesy.
Here are five reliable tools to find duplicate content on the website – 
There are various plagiarism checkers available online that you can use free of cost or by paying a small fee. Such tools not only make the process easy by are quite easy to use, too.
Below are our top five picks:
1- Dupli Checker
Duplichecker is a top-rated online plagiarism tool that is easy to use and free of cost. It offers three types of plagiarism checking options – you can copy-paste the content directly, upload a file or paste the webpage's URL to start with the check.
Duplichecker then proceeds to do a deep search and offer a comprehensive plagiarism report sheet. If it detects plagiarism, it provides plagiarism percentage. The site with similar content is displayed in the right column. Plus, Duplichecker allows you to even print the result report.
2- SmallSEOTools (Plagiarism checker)
Another best and reliable tool to check for duplicate content is SmallSEOTools. It offers two options – you can copy-paste the content or enter the URL of the webpage you wish to cross-check for duplication.
SmallSEOTools also offer a third option that excludes the URL, meaning if you wish to skip a certain URL, you can do that.
While providing the result report, SmallSEOTools displays the percentage of plagiarism and a sentence wise result. The plagiarised sentence is highlighted in red, and a compare button is provided for you to check the sites that have similar sentences used. Similar to duplichecker, even SmallSEOTools offer an option to print the result.
3- Plagiarism detector
Plagiarism detector is the third-best duplicate content detecting tool for all the good reasons. It gives you the option to copy-paste your content, exclude a certain URL and check the duplication using URL. In the results, you will be presented with unique and plagiarism percentage indicators.
Similar to SmallSEOTools, even a plagiarism detector highlights duplicate sentences in red. You can check for plagiarized sources in the right-hand column and download the report if required.
4- CopyScape
CopyScape is yet another plagiarism checking tool that can be used for free. However, it does the searching based on URLs. You don't have the option of copy-pasting the content or excluding URLs.
Copyscape can prove a great tool for website managers who wish to cross-check their website's URL with other sites for similar content. In the results, you can get information on similar content and the website details that have similar content. You can click on the URLs and get a detailed report.
5- Siteliner
The last free online plagiarism checking tool on our list is Siteliner. Similar to CopyScape, even Siteliner offers only one option that is of checking with URLs. Just enter the URL of the website you wish to check, and it will do a comprehensive checking of all the pages the URL has.
In the report, you will find "your top issues" and "your pages." Under "your pages," you will find details of duplicate content and the result of comparison with other sites. Click on duplicate content; it will redirect you to the final report.
Wrapping up
To be sure that the content from your website isn't duplicated, stolen or even scraped, it is best to perform routine checks for duplicate content using the tools suggested above. Also, when creating content, keep an open mind, do as much research as possible to generate unique, useful and engaging content that makes both audiences and search engines happy.
And, don't shy away from calling experts if you are finding it difficult to handle the issues arising due to plagiarism or duplicate content. SEO experts at Green Web Media can help you retain a duplication-free website for years and help you boost your search engine rankings, too.